The Future of Pharmaceutical
Manufacturing has Arrived
Continuous Manufacturing is the first major implementation of advanced manufacturing in the pharmaceutical industry. Instead of using traditional batch methods that are time-consuming and costly, product is continuously manufactured in a state of automated control. Integra Continuous Manufacturing Systems (Integra CMS) is the right partner to help your team develop, implement, or optimize continuous processes that deliver. With our expertise, making the transition is easy!
---
Integration is our key to developing successful continuous manufacturing processes and achieving optimum performance and real-time quality assurance via:
Expert understanding of material properties
Strategic equipment selection and specification
Implementation of high fidelity sensors
Detailed process modeling
Effective control methodologies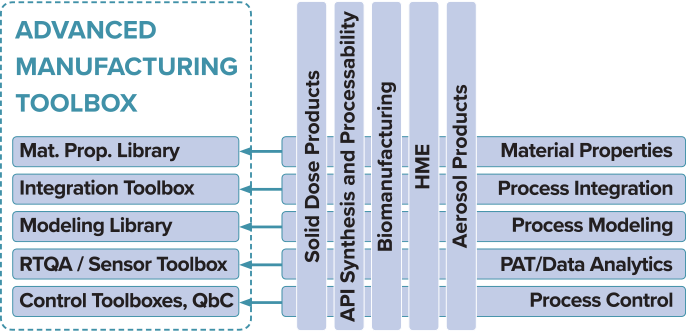 Who is Integra CMS?
Integra CMS, a wholly owned subsidiary of Acumen Biopharma, is a New Jersey-based company pioneering continuous manufacturing processes for the wider drug industry. The company was founded in 2015 by Dr. Fernando Muzzio and it is supported by the wide resources of the C-SOPS network.
In 2016, Integra completed a comprehensive know-how licensing agreement with Rutgers University to develop, practise, and commercialize advanced continuous manufacturing services, making them available and accessible to manufacturers on a wider scale.
We have created a network of technology providers (suppliers of equipment, instrumentation, ingredients, sensors, and process control capabilities) and field experts across the pharmaceutical manufacturing industry, so that we can scale quickly and flexibly to your individual team needs.
Recognizing the critical relationship between innovation and regulation, Integra CMS actively aligns its technical offerings with the known and anticipated technical expectations of the US FDA and other global regulatory agencies. This deep experience and understanding of the regulatory requirements of continuous processes makes Integra your essential partner in the selection, specification, and implementation of continuous manufacturing systems.
Why work with Integra CMS?
We use an advanced manufacturing toolbox approach that can be applied to develop or optimize continuous manufacturing processes in pharmaceuticals, catalysts, consumer products, cosmetics, batteries, and other industries.

Our team leverages the experience of the Engineering Research Center for Structured Organic Particulate Systems (C-SOPS) at Rutgers University with real-life results from more than 50 industry partnerships focused on developing and implementing continuous manufacturing processes.

Your team gets seamless support—at any stage of continuous manufacturing implementation—that delivers robust, agile, reliable and effective results.